5.09.2006
Korean Android Robot Unveiled....
>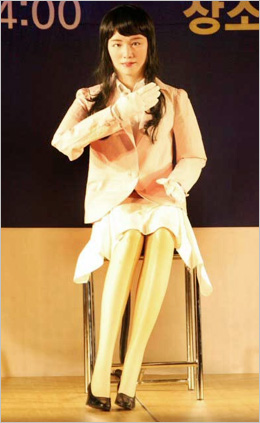 From the
do Androids Dream of Electric Sheep Department
EveR-1's android skin is made from a silicon jelly that feels similar to human skin. Resembling a woman in her 20's, EveR-1 is 160 centimeters tall.
The android has fifteen sensors in its robotic face to allow it to interpret the face of a person before it, and thirty-five miniature motors to create expression and properly look back at a person talking to it. The EveR-1 has a basic vocabulary of 400 works, and can have simple verbal exchanges with humans.
According to KITECH scientist Baeg Moon-hong, "The robot can serve to provide information in department stores and museums or read stories to children; it's capable of both education and entertainment functions."
Science fiction writers have gone a bit further in their thinking about female robots and androids. In his 1954 work The Mechanical Bride, author Fritz Leiber wrote about a similar robotic creation:
Streamlined, smooth-working, absolutely noiseless, breath-takingly realistic. Each one is powered by thirty-seven midget electric motors, all completely noiseless, and is controlled by instructions, recorded on magnetic tape, which are triggered off by the sound of your voice and no one else's. There is a built-in microphone that hears everything you say, and an electric brain that selects a suitable answer. The de luxe model is built to your specifications, has fifty different facial expressions...
from
Technovelgy.com